Welcome
11 Randall Street, Sandy Bay, Hobart
Tasmania 7005
Australia
Nestled in the heart of Sandy Bay, Hobart, At Eleven offers stylish and comfortable accommodation perfect for relaxing, dreaming and remembering the best of your day's activities.
Exuding charm and shabby chic elegance, the cottage has everything you could need with all the luxuries of home, making it the perfect retreat for explorers, business travellers, holiday makers, and romance seekers.
Cocooned in comfort, put your feet up, enjoy the abundance of art work, or relax with a book, music or movie from the eclectic library. Soak in the deep claw foot bath and sleep soundly in fine linen and tranquil surrounds.
Enjoy breakfast in the secluded courtyard lined with citrus, or unwind with an evening drink in the glow of the sun setting over kunanyi / Mount Wellington to the sounds of the tinkling fountain.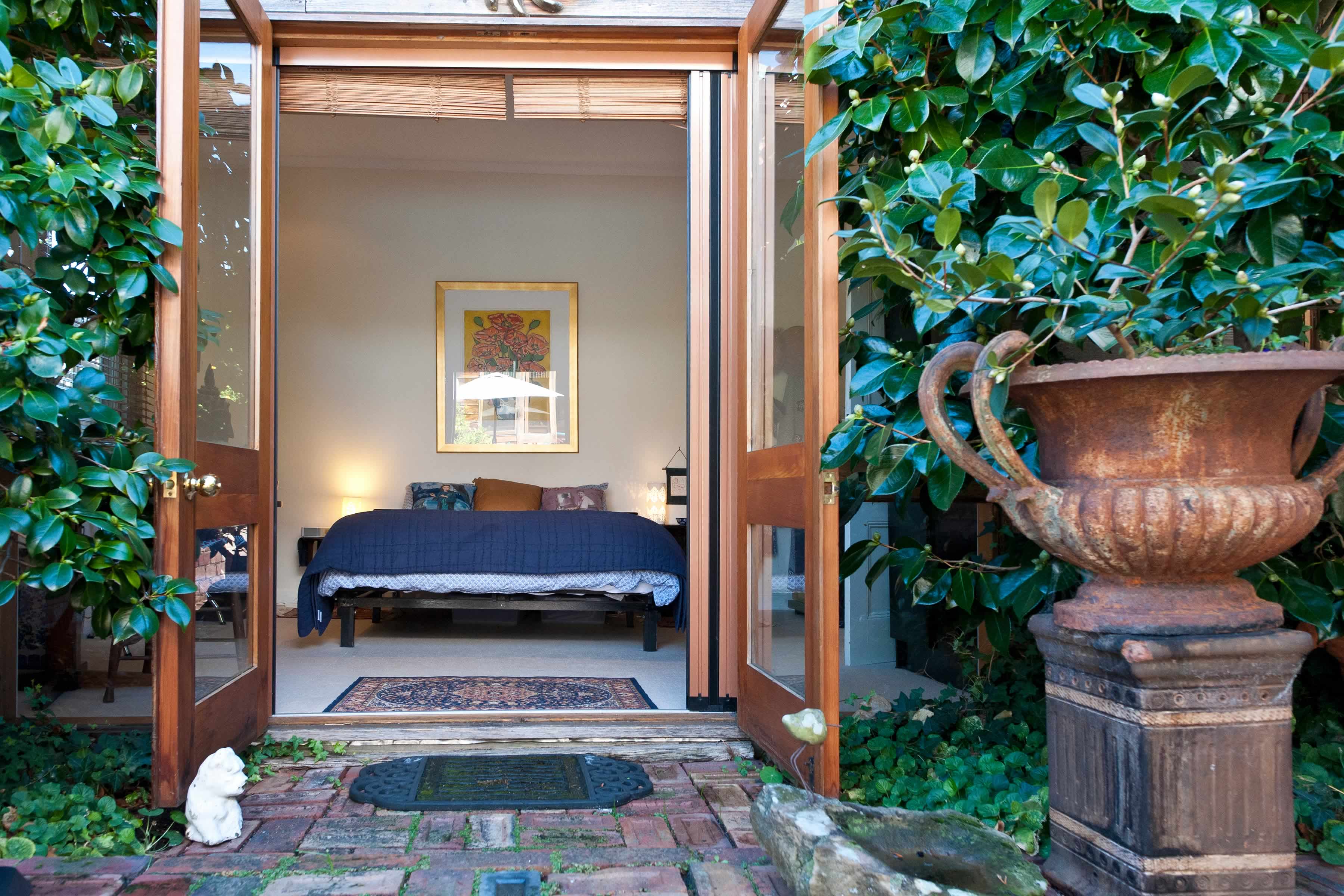 The cottage
Catering comfortably for two with the ability to accommodate four. At Eleven inspires with its international influences and sophisticated charm.
With all the comforts and conveniences to make a treasured impression, guests enjoy the comfortable decadence of home luxuries and the privacy of the secluded garden settings.
Eastern fusion in the bedroom
Relax in the Zen. Sink into the comfort of the pillow-topped mattress and fine linen on the queen-size bed. Drift into your dreams to the soothing sounds of the courtyard fountain.
Classic Comfort
Indulge in the rain shower or deep bath. Pamper yourself with sumptuous products, scents and lush bath robes.
Practical and pretty
All the tools you need in the pantry for preparing your own meals in the microwave, cooktop or stove. A bottle of Tasmanian sparkling wine, selection of fine teas, quality coffee and drinking chocolate are complimentary.
Perfectly Parisian
A sunny front lounge where you can dine and unwind. Read a book, watch a movie listen to your favourite tunes or surf the net with complimentary Wi-Fi.
Citrus lined courtyard
With plenty of lemons, oranges and limes to sample the sunny courtyard, complete with fountain and gold fish, is the ideal spot to relax after the day's activity. You may decide to use the BBQ supplied. Here you will also have a fabulous view of kunanyi / Mount Wellington.
Home away from home
At Eleven amenities include: iron, iron board, hair dryer, hair iron, bathrobes, luscious organic bath products, TV, DVD, CD, mobile/tablet charger, library of books, music and movies, additional queen-size sofa bed, gas heating, luxury throws for cold feet, free Wi-Fi, and two bicycles with helmets.
Out and about
Nestled in the heart of Sandy Bay, At Eleven, is perfectly positioned for you to make the most of your business, dining, travel or personal pursuits.
You can walk or get to just about anywhere from our convenient location.
At Eleven is within close proximity of the University of Tasmanian, Royal Hobart Yacht Club, Wrest Point Casino, and Hobart Metro Bus stops.
Just a short stroll to the local shopping precinct, restaurants, cafes and supermarkets or a slightly longer meander (two kilometres) to the Hobart city centre, waterfront, MONA Ferry, historic Battery Point, and Salamanca.
Tasmania's regional delights are also right on your doorstep. At Eleven is approximately one hour from the Huon Valley, Mt Field National Park, and 90 minutes from Port Arthur Historic Site and the Tasman Peninsula. Historic Richmond and the Coal River Valley, famous for wine, cheese and produce, is only a 30 minute drive. At Eleven is a perfect base for your southern Tasmanian sightseeing options.
What guests say
Don't just take our word for it!
At Eleven has managed to capture the imaginations and hearts of many guests who have passed through its doors.
Thank you Karen for a wonderful place to stay for a week. The little touches were really special and I loved it. All the best for 2021 and beyond and I will definitely keep this place in mind in the future.
Layla, January 2021
First, wishing you, Karen, a fantastic 2021. Second, thank you for providing us the opportunity to start 2021 at the top. At Eleven is a fantastic place to stay in Hobart, we love it. Clean, spacious and wonderful decor, very cosy. We will definitely stay here on our next visit to Tas.
Deborah & Ellio, January 2021
Dear Karen, thanks for this fantastic two days. Your nicely decorated cottage was ours. Second to none in a wonderful city. We could stay forever! All the best.
Urula & Ulrich Switzerland, March 2020
I'm not sure where to begin! From the moment we opened the door both David and I fell in love with your house. It's a calm, beautiful space, We adore your decor and little touches. You have provided us with everything we could possibly need. Your books "WOW"!! Thank you Karen and we hope to return again one day so I can read more of your books.
Louis & David, Sydney, January 2020
Thank you for the warm welcome. Even if it was only two days, we really enjoyed it. We will surely remember for a long time the little trip around the world in your house. Best regards and auf wiedersehen.
Katrin & Rene Germany, December 2019
Thank you Karen for creating a stunning home away from home experience. This was our first proper holiday and staying @ At 11 was super relaxing. Thank you for your kindness during our stay — we hope to stay again and we will be recommending this space to any of our friends visiting Hobart.
Emily & Rob, Adelaide, January 2019
I loved the library and travel art — could have stayed here for months! The house is very thoughtfully supplied and we were very comfortable. Will definitely recommend!
Adele, Phil, Amelia, September 2018
It was a lovely house with all the things you need. The bed is great — we slept so well! It was also good having the heaters — we did not expect the weather to be so cold here.
Christian & Sybilla, Germany, November 2017
Love your glorious cottage, books, art and artefacts from around the world — so different from the usual clinical accommodation.
Julie & Dale, WA, February 2017
Best surprise ever finding out that this was indeed a whole house!!! Fantastic accommodation — we once visited an apartment in Paris and At Eleven very much reminds us of this. We loved the fusion of French and Asian — actually, we've loved everything about this house.
Steve & Helen, Adelaide, January 2016
Even staying here for work, At Eleven is that perfect relaxing break and relaxing environment that you need after a hectic stay. Really appreciate all the little touches and effort you have obviously gone through — especially the thought of good coffee and a sustaining breakfast! One less thing to worry about.
Josh, September 2015
It's been a cosy, warm and inviting place to come back to at the end of a long day of cider drinking or MONA exploring. The courtyard, bathrobes and your obvious good taste added that special touch to make us feel at home.
Aphrat & Corey, January 2015
Both my wife and I feel really at home here with all the thoughtful and considered design choices; you have imbued your property with a sense of character and personality that makes it really stand out. You have also matched this warmth with a very professional eye for detail — love the rainfall shower, the wireless, and the unobtrusive cleaners. I also consider your price point to be exceptionally generous given the quality you offer — I did a lot of research and frankly there's a lot out there that costs a lot more and offers considerably less!
Corinna & Charlie, December 2014
We have had the most delightful stay at La Petite Maison. Charming, cosy and comfortable. The bed is a dream, the claw foot bath heavenly, and the little nooks for taking coffee outside in the morning a welcome chance to savour Karen's attention to detail in the garden also. At Eleven is charming and continues to delight.
Shari, Andi, Marcel, VIC, April 2014
La Petite Maison is so cosy and comfortable but has many unexpected touches — exotic travel books, great artworks, candles, music, white roses in bloom in the front garden… so many charming features!!
Robyn & John, NSW, April 2014
We are inspired by the eclectic style of At Eleven for our own home, just superb! We appreciate the breakfast items that you left there for us, it is definitely above and beyond our expectations.
Jess & Adam, NSW, April 2014
Contact us
Please don't hesitate to contact us with any accommodation enquiries.